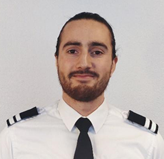 ---
About
I'm goal oriented and self-driven. I chose to spend two years studying abroad in Iceland on my path to achieve my career goals. It confirmed that I am ready to and still have a desire to live foreign places and work with different nationalities.
I'm acclimated to a professional work environment with both commercial and military traffic from my flight school's base at an international airport. The harsh weather there taught me how to fly in challenging weather and when to avoid it as icing conditions, heavy winds and low visibility are frequent factors in Iceland.
I had a lot of positive feedback from my instructors, both on my TR and MCC/JOC-course and I'm used to work in teams from my non-aviation work experience during my military conscription and as a waiter. Here I was from my leaders complemented for high work effort.